Who We Are
S&S Associates, a leading Executive Search Firm in India, focuses on identifying leaders of tomorrow for large Indian businesses, multinational companies and budding start-ups through its bespoke executive search services. Established in 1989, the Firm advises and places executive leaders that possess impeccable leadership and managerial skills to steer organizations ahead. The idea is to identify outstanding executives with enviable track records who will create distinct competitive advantage for their future employers. Our belief lies in strengthening client relationships and our consistent success rate through our 30 years of practice speaks for itself. As an active member of the reputed global group, PRAXI Alliance Worldwide Executive Search, S&S Associates strives to consistently evolve with the changing HR landscape to remain at the forefront of the latest advances in the field fostering a highly efficient and responsive culture that constantly delights clients.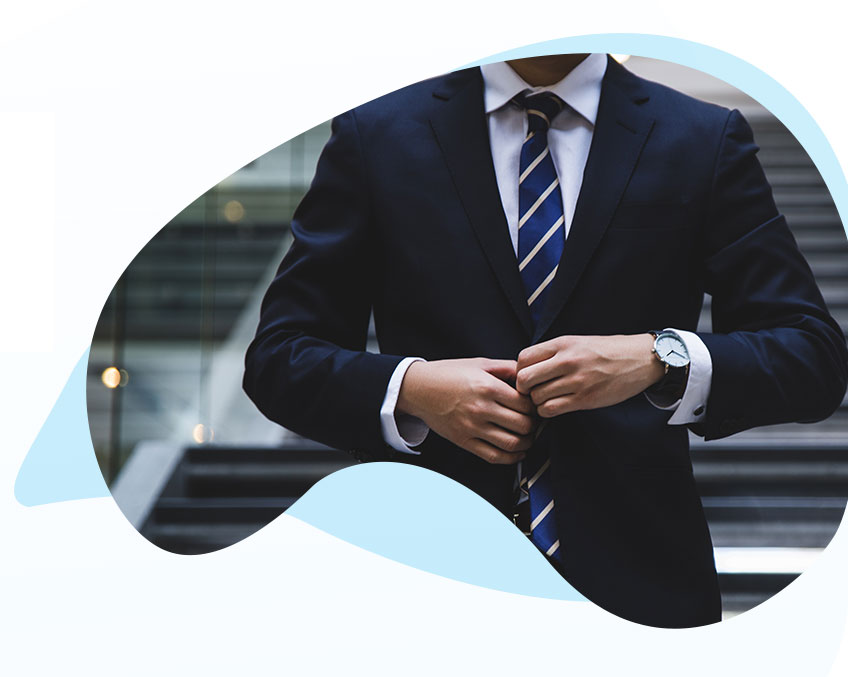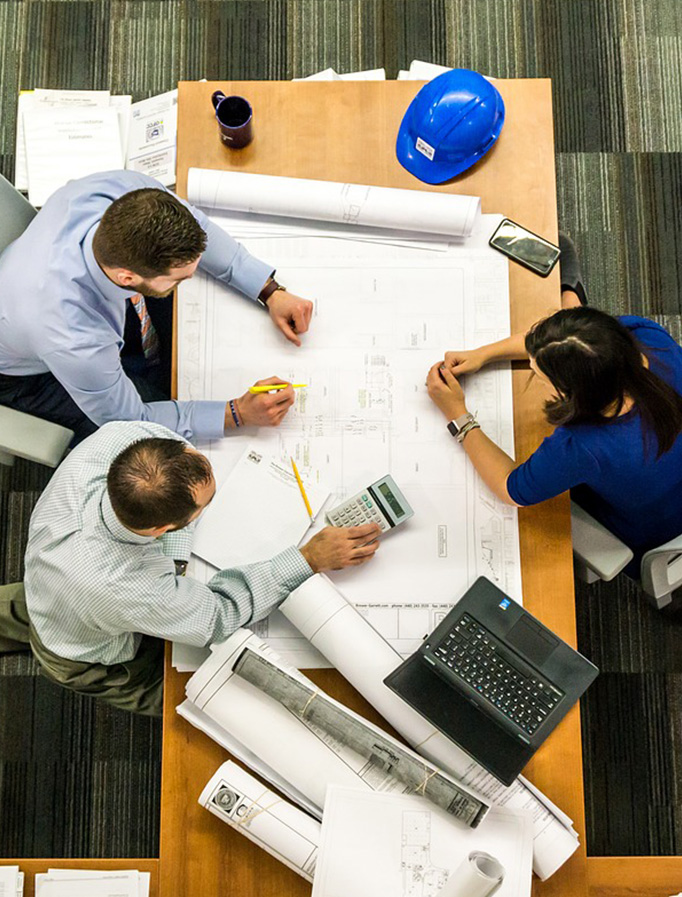 How We Started
S&S Associates, has over its 30 years of rich and diversified experience, catered to customers across different industries, devising a meticulous and tailored approach to each executive search project. Clients have benefited from our unique inventory of intellectual capital, research based methodology and honed processes. Our ability to deliver high-potential executive leaders who uniquely match the organization's needs and culture has contributed extensively to our clients' success, helping them stay ahead of the curve.
We began in 1989 initially rendering executive search services primarily to the Pharma and Healthcare sector. Progressing further we added our BFSI practice in 1995, our Consumer practice in 1977 and thereafter Technology in 1998. The Manufacturing and Infrastructure practices were then added in 2003, and we finally extended our services to the Consulting practice in 2007. We have evolved exponentially with our growth mirroring the growth of the Indian economy.
What Guides Us
Our ethics are the bedrock on which our search strategies are created which guide our approach to help organizations find forward-thinking and passionate executive leaders who can help put their companies on the map.
Having worked with a wide variety of businesses across sectors and business cycles for over three decades, our learnings honed over this extended period have helped us imbibe the intricacies of diverse business verticals and business models. This understanding has helped us shape and execute optimal search strategies ensuring maximum benefit to our clients.
Working for our clients is our enthusiastic and well-trained team of seasoned consultants who come armed with a strong management background. They leverage their domain knowledge and search expertise for identifying appropriate performance-driven and scalable leadership talent.
We have been successful in finding and placing 'best fit' leaders for:

Leading Indian companies and multinational corporations looking to expand their footprint in India
Family-owned businesses seeking a prominent Indian and/or global presence
Budding start-ups trying to make their mark in the competitive market
We Deliver to our Clients through:
High quality search, with a focus on getting it "First Time Right" so that our clients' time is optimised.
Thorough processes that ensure the best fit for both the company and candidate in terms of profile, skills and culture.
Rich understanding of the environment, sector, issues and nuances involved.
Established proprietary search system, backed by a proprietary database that is the backbone of our best- in-class service delivery.
A seasoned team comprising of:
Partners with diverse industry experience and strong business and alumni networks
Trained, motivated and responsive Consultants
Our Process
At S&S, every search we undertake is with the objective of finding the best fit between the organisation and the potential candidate in terms of expectations and capabilities – to create a win-win situation.
We believe it is of vital importance to take into account the interests of both sides so that the leadership solutions we come up with are both effective and stable in the long run. In addition, over time, we have developed proprietary processes to ensure excellent results – processes that we have put together in what we term as our Best-Fit Methodology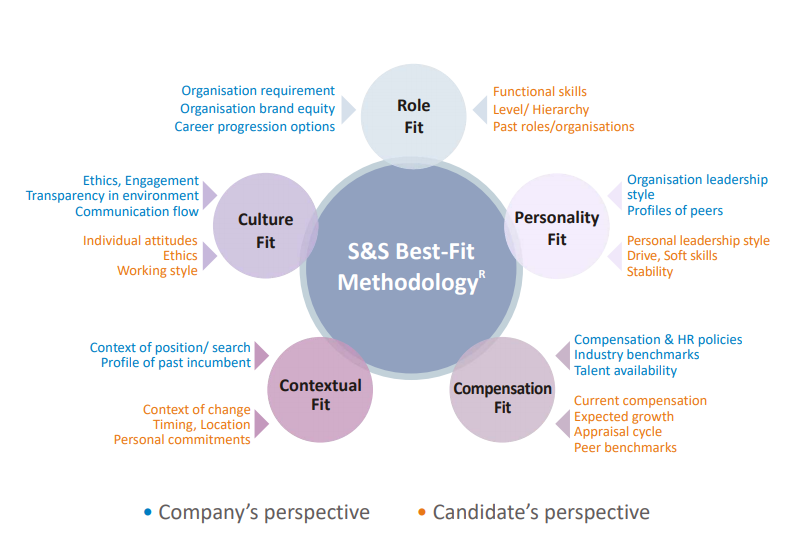 Each element of this model helps us build a picture from both sides, Client and Candidate. It requires assiduous research and understanding on the part of our team through predefined Client and Candidate interactions, as well as independent industry research, accurate assessments and check-backs.

Soniya Singh: Founding Member who set up the Firm in the year 1989. Soniya brings a wealth of experience in recruiting C-level executives in both established and startup companies – primarily in the Consumer, Retail, Life Sciences and Telecom sectors. With long standing client relationships that span multiple industries and geographies, she has developed expertise in driving complex searches and has grown the business over the past two decades along with client growth. Soniya enjoys a significant network of key business leaders and influencers in her space.
Soniya is an MBA from the 1987 batch of Narsee Monjee Institute of Management Studies, Mumbai University.

Sanjit Paul Singh: Prior to moving into Executive Search Sanjit acquired more than two decades of experience working across industry sectors and entrepreneurial
ventures in pioneering leadership roles with companies like Pfizer, ANZ Grindlays, Nestle and HCL. Between 1994-98 he was the CEO of an NBFC in Infrastructure Advisory, Wealth Management and Resource Raising. He is an Independent Director in a Vardhman Textiles company and is also the Chairman of the Audit Committee. Sanjit looks after the Technology, Industrial and Manufacturing Verticals.
Sanjit is an alumnus of the prestigious Indian Institute of Management Ahmedabad from where he received his MBA in 1981.

Karan Bhandari: Karan has over 25 years of experience across a wide variety of functions, categories and geographies. He headed the regional Marketing function
for Asia Pacific at Bausch & Lomb, besides setting up a distribution company in Africa and heading a Top-10 ad agency in India that was subsequently acquired by the Publicis group. He currently focuses on Retail enterprises in the Luxury and Healthcare sectors and also brings strong domain knowledge in Supply Chain, Logistics and Media.
Karan is an MBA from the 1987 batch of Indian Institute of Management, Ahmedabad.

Sujay Joshi: Sujay has an MBA from Indian Institute of Management, Ahmedabad (1981) and is a Chartered Accountant (1984) with more than thirty years of experience in fund management, corporate finance and general management. Sujay has developed and implemented strategy for many corporates, with a view to enhance shareholder value. He was associated with the Oppenheimer India Private Equity Fund and has also worked with Price Waterhouse in their Consulting Services division.
Sujay focuses on Accounting, Taxation and Private Equity bringing a wealth of experience and strong client relationships.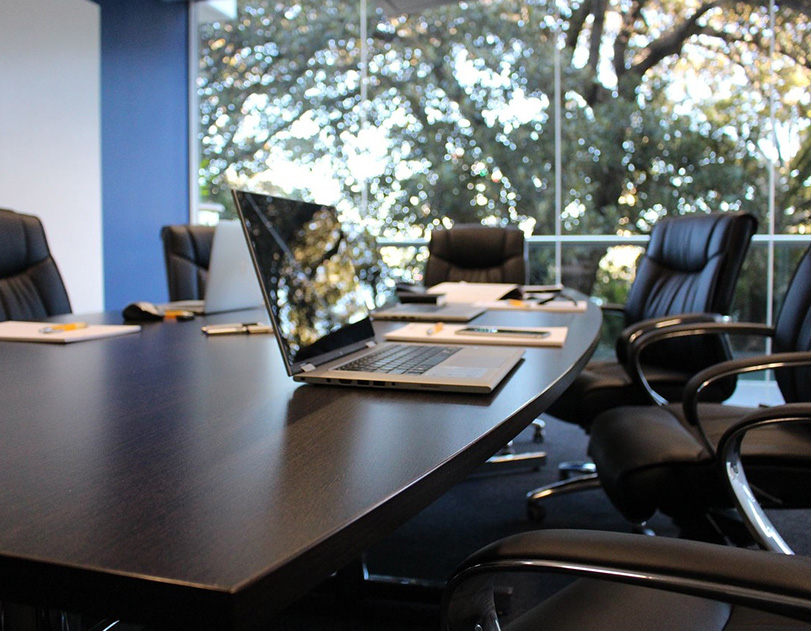 Check Out What Our Clients Say
25 years ago, when I was happily working as the HR Director for American Express in India, Soniya contacted me for an HRM role at GE Capital, India. Reluctant at first, I was gently persuaded to attend the interview by Soniya. She didn't push too hard or sell too hard, but in a careful, thoughtful and honest way, made me understand how she felt I would be suitable for the role. I went for the interview and, to my surprise, ended up joining GE. I received a card at that time from Soniya, congratulating me and predicting that she would not be surprised if I became the Global CHRO of GE one day. After many adventures at GE, when I had the privilege of assuming the responsibility of Global CHRO, I remembered Soniya's predictions. On my retirement from the company, I met with her again, to belatedly thank her for her faith in me. Her assessment skills, ability to fit the person to the job and the company, and working through the details were par excellence. I have encountered many search firms and consultants during my career, in different geographies and different roles. Soniya stands out for her thoroughness, credibility, character and connections. Thanks Soniya!
Raghu Krishnamoorthy
Global CHRO, speaker and thought leader
S&S Associates is a great business partner when it comes to leadership hiring as they know the pulse of the market and use their deep understanding of business models and market knowledge very effectively, especially when it comes to briefing and convincing senior candidates about the opportunity. What sets S&S apart is their unique ability to think outside the box – they constantly surprise you with some very innovative solutions. Their ability to understand the client's business, visualize the future demands on the role and draw out all possibilities - add value to the search and make them a great strength to have on your side. I would certainly like to engage S&S again if I were driving a key search in India.
Daljit Singh, Singapore
Ex Reg HR Director JAPA Region, American Express Ex Group HR Head, Bharti Airtel
It has been a very productive association and a pleasant experience working with S&S Associates for the last couple of years. S&S' professionalism, efficiency, enthusiasm and "never say die" attitude set them apart and give the client a great edge. Their strong market focus along with great client servicing capabilities are additional feathers in their cap.
Sudhir Prasad
CEO, TVI
This is to place on record appreciation of great work being done by your organization. Personally, I had an excellent experience working with you and your team. I specifically notice the deep understanding displayed by your teams of Telecom, IT and Media industry in India and the various dynamics playing out. I found your organization offering good perspective and unbiased advice to both the organization and the candidate thus facilitating long-term partnerships. I also enjoyed our interactions during engagement for evaluation and later on-boarding at Aircel.
LV Sastry
Business Head - Enterprise Business Aircel Limited
"Soniya Singh, Partner S & S Associates was a key contributor to my moving from Ericsson where I had spent close to 15 years to Nokia Siemens Network as their Region CFO last year. She has displayed utmost professionalism with transparency, being balanced and pragmatic in her approach. She has a clear understanding of how counterproductive an aggressive approach to recruitment planning and execution can be. She helped me take a well informed decision and my trust in her was rewarded with my placement here at NSN"
Sunil Syal
Region CFO, Nokia Siemens Networks